For Professionally Accurate and Safe Home & Public Temperature Screening with the Exergen TAT-2000C.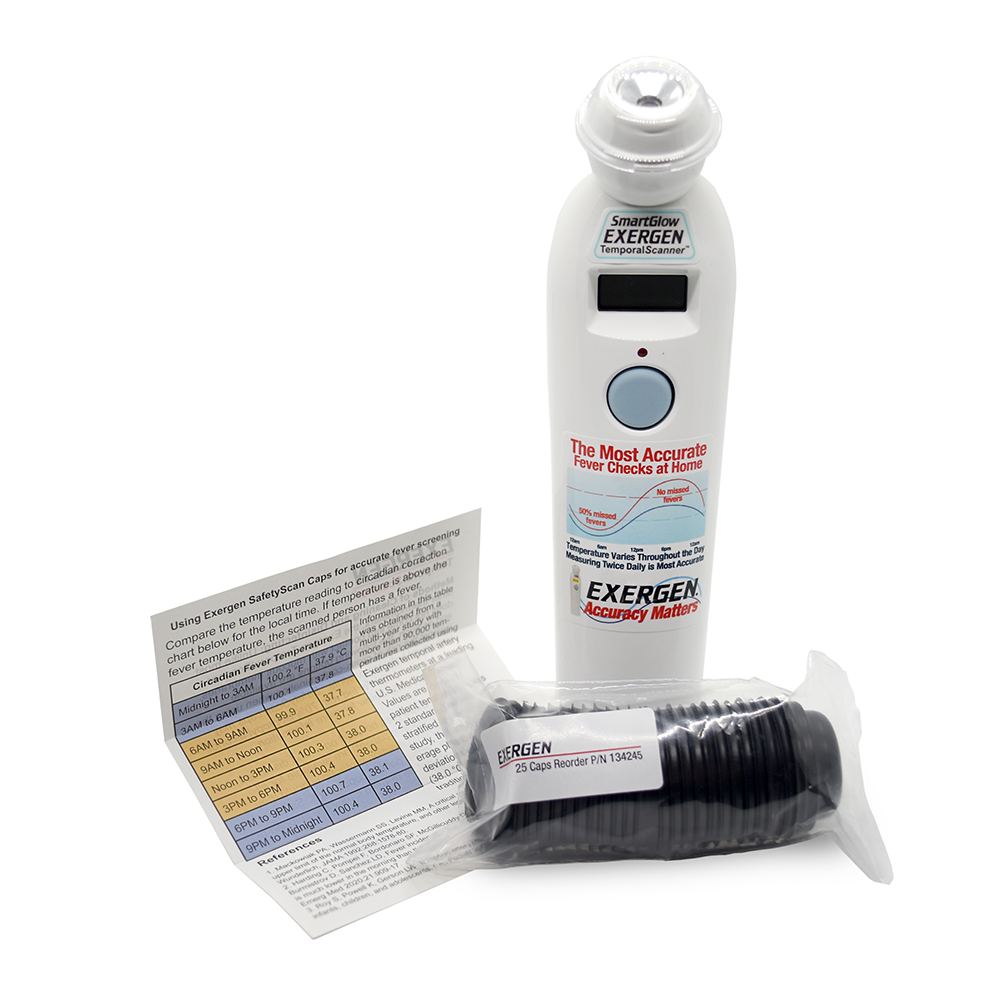 Methods of Cleaning and Disinfecting:
Unlike most other thermometers, the Exergen TemporalScanner does not come into contact with mucous membranes, and as such, the following options are available against the risk of cross-contamination when using the instrument between patients. SafetyScan Caps may be cleaned and disinfected with 70% isopropyl alcohol.
SafetyScan Caps
(can be used once and discarded, or reused on the same patient) are available for all the levels of cross-contamination protection should they be preferred for certain patient populations. SafetyScan Caps should not be re-used if they are chipped or cracked.
Use Exergen SafetyScan Caps for Accurate Fever Screening
Use Exergen SafetyScan Caps for Accurate Fever Screening
Compare the temperature reading to circadian correction chart at right for the local time. If temperature is above the fever temperature, the scanned person has a fever.
Information in this chart was obtained from a multi-year study with more than 90,000 temperatures collected using Exergen temporal artery thermometers at a leading U.S. medical center.2 Values are average patient temperature plus 2 standard deviations, stratified by time. In the study, the across-day average plus 2 standard deviations was 100.4°F (38.0°C), matching the traditional fever definition.
References
Mackowiak PA, Wasserman SS, Levine MM. A critical appraisal of 98.6 degrees F, the upper limit of the normal body temperature, and other legacies of Carl Reinhold August Wunderlich. JAMA 1992;268:1578–80.
Harding C, Pompei F, Bordonaro SF, McGillicuddy DC, Burmistrov D, Sanchez LD. Fever incidence is much lower in the morning than the evening: Boston and US national triage data. West J Emerg Med 2020;21:909–17.
Roy S, Powell K, Gerson LW. Temporal artery temperature measurements in healthy infants, children, and adolescents. Clin Pediatr 2003;42:433-7.